Life Story for Peter T. Macklem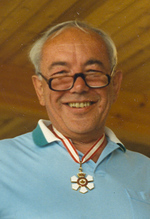 Peter T. Macklem
OC, BA, MD, CM, DHC(Hon), FRCP(C), FRSC
4 October 1931 – 11 February 2011

Husband, father, grandfather, brother, uncle, friend, mentor, physician, scientist, boater and environmental activist, Peter Macklem died suddenly and unexpectedly at home on Friday 11 February 2011.

Loving husband of Joy (née Belcourt); father of David (Loretta), Katherine (Robert), Patrick (Courtney), Jennifer (Kip), and Ann (Patrick); and grandfather of Philip, Andrea, Richard, Emilie-Anne, Riel, Sam, Serena, one more on the way, Thea, Eric, Emma, Jesse. Brother of Richard Macklem (Janet) of Montreal. Professor Emeritus, Department of Medicine, McGill University. President of the Thousand Islands Area Residents' Association (TIARA) and spearhead of the ongoing campaign to officially identify the St. Lawrence River as a Canadian Heritage River.

Peter lived life intensely, passionately and generously, with great love for his family, friends and colleagues. From his early morning swim in the river to his love of great food and wine, from medicine to the arts to the discovery of new places, he shared his wide-ranging interests with all and many. He was deeply interested in and supportive of his family and the education of his grandchildren.

An internationally acclaimed leader in respiratory research, Peter's early work constituted the scientific basis for the campaign against smoking. His seminal discovery of the role of muscle fatigue in respiratory failure transformed the care of ventilator-dependent patients in intensive care units around the world. More recently, his intense curiosity and boldness led him to the study of the theory of complexity and its implications for pulmonary function. As Director of the Meakins-Christie laboratories of McGill University and then as founding director of Inspiraplex, Peter inspired and fostered the careers of many physicians and scientists who currently hold positions of leadership in respiratory medicine and other disciplines around the world. Peter will be remembered as one of the most audacious and respected scientific minds of the global respiratory community.

Peter did his undergraduate work at Queen's University, Kingston, Ontario, graduated with his MD from McGill in 1956, and became a Fellow of the Royal College of Medicine in 1963. His career proceeded along two tracks - one of scientific investigation and the other of academic leadership. He was appointed Founding Director of the Meakins-Christie Laboratories for Respiratory Research (1972-79). In 1979, he became Physician-in-Chief, Royal Victoria Hospital and, in 1980, Chair of Medicine at McGill. In 1985, he was appointed Massabki Professor of Medicine; in 1987, he was named Physician-in-Chief of the Montreal Chest Hospital. From 1990-95, he served as President and Scientific Director of Inspiraplex, the Respiratory Health Network of Centres of Excellence.

Peter was widely recognized for his achievements both at home and abroad. He was a medalist of the American College of Chest Physicians (1979), a fellow of the Royal Society of Canada (1982), an Officer in the Order of Canada (1988). He received Honorary Doctorates from the Université Libre de Bruxelles (1987) and the University of Athens (1997). In 1991, he received the John B. Sterling Medal, given to an outstanding graduate of Queen's University. He was awarded the Gairdner Foundation Wightman Award in 1999 and the Michel Sarrazin Award, Club de Recherche en Sante du Canada in 2003.

Family and friends will be received on Wednesday, 16 February, from 5 to 7 pm, at Irvine Funeral Home, 4 James St. East, Brockville, Ontario. A celebration of Peter's life will take place on Thursday, 17 February at 2 pm, at Irvine Memorial Chapel, at Roselawn Cemetery, 2451 Maitland Rd., Maitland, Ontario. A reception will follow the ceremony. In accordance with Peter's wishes, a cremation will occur privately.

Donations to TIARA (www.tiara.on.ca), Frontenac Arch Biosphere (www.fabr.ca), Dans la rue, of Montreal (www.danslarue.com), or a charity of your choice in honour of Peter's life will be greatly appreciated.

Click the Video Tribute tab to the left to view a pictorial of Dr. Macklem's life.
Order Flowers